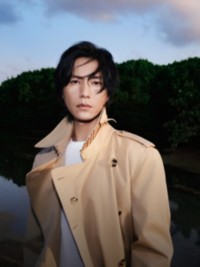 Meet Our New Burberry Ambassador
Meet our new Burberry Ambassador, Chen Kun. Chinese actor Chen Kun is a man of many talents. Lauded for playing dynamic characters on screen, Chen's passions also encompass singing, writing and philanthropy. An inspiring voice, Chen is a founding member of The Dome Studio – a collaborative space for young actors to nurture their craft. We spoke to our new Burberry Ambassador about his philanthropic work, the inspiration behind his style and more.
You've mentioned that you're drawn to playing layered characters on screen. What excites you about those roles?

I think every character has their own vitality. As an actor, I've been lucky enough to experience different roles. When channelling these characters, I hope to infuse them with more spiritual depth, touch upon spaces that are usually beyond reach, and savour the pleasure of unfolding these characters and bringing them to life.


How do you wind down when you're not working on projects?

Everyone has their own way to wind down. I enjoy some me-time when I'm not working – whether it's going for a walk, meditating, yoga, or brewing tea. These are all ways that I communicate with myself.


The Dome Studio nurtures next-gen actors. As one of the founding members, what advice would you like to share with young actors and creatives trying to break into the industry?

My actor friends and I share a mutual understanding that actors should continuously learn throughout their lives. We lacked the space, platform, or environment for purely exploring performance. This gradually evolved into a desire to help people who love acting and share the same belief as us. Over the past five years, The Dome Studio has served as a platform for hundreds of young actors to explore the art of performing. My advice for younger actors would be to keep learning, be yourself and stay passionate.
Your philanthropic work is admirable. Can you tell us more about the inspiration behind your Power to Go charity?

The Power to Go programme started in 2011 and is now celebrating its 12th year. Walking has been a way of introspection and self-reflection for me. I intended to share this tool with others. For the past 12 years, the Power to Go programme has brought together participants from diverse backgrounds to hike in remote destinations such as plateaus, deserts, grasslands, and mountains. Through the Power to Go exhibition and documentary, we aim to inspire and impact a wider audience with the campaign's message of empowerment and exploration.


How would you describe your style?

I would say classic with a playful twist. I like to add my personal touch.


How does it feel to be a Burberry Ambassador?

I am honoured to be the brand Ambassador of Burberry, a time-honoured British luxury house that not only has a rich history, but also embraces the spirit of innovation. The constant breakthrough of classic heritage and modern trends inspires me greatly. I look forward to working with Burberry in the future and breaking more boundaries together.
The Ambassador announcement shoot was shot in the Mangrove Biosphere Reserve in Hainan Province, Mainland China – a site where Burberry has supported conservation efforts. How was the shoot experience?

I really enjoyed the trip to Mangrove Biosphere Reserve. I remember the tranquil sounds of nature, the gentle flow of the wind, and the soothing sensation of seawater, which all created a heartwarming and healing experience.

What does the Burberry brand mean to you? 

Burberry embodies a fashion attitude that is both classic and pioneering, characterised by its own unique self-persistence.

Can you remember the first Burberry piece that caught your eye and why?

My first Burberry piece was a trench coat, it represents a classic and timeless brand spirit.

What's next for you?

Creating and exploring new characters will always be my eternal goal.